CLub History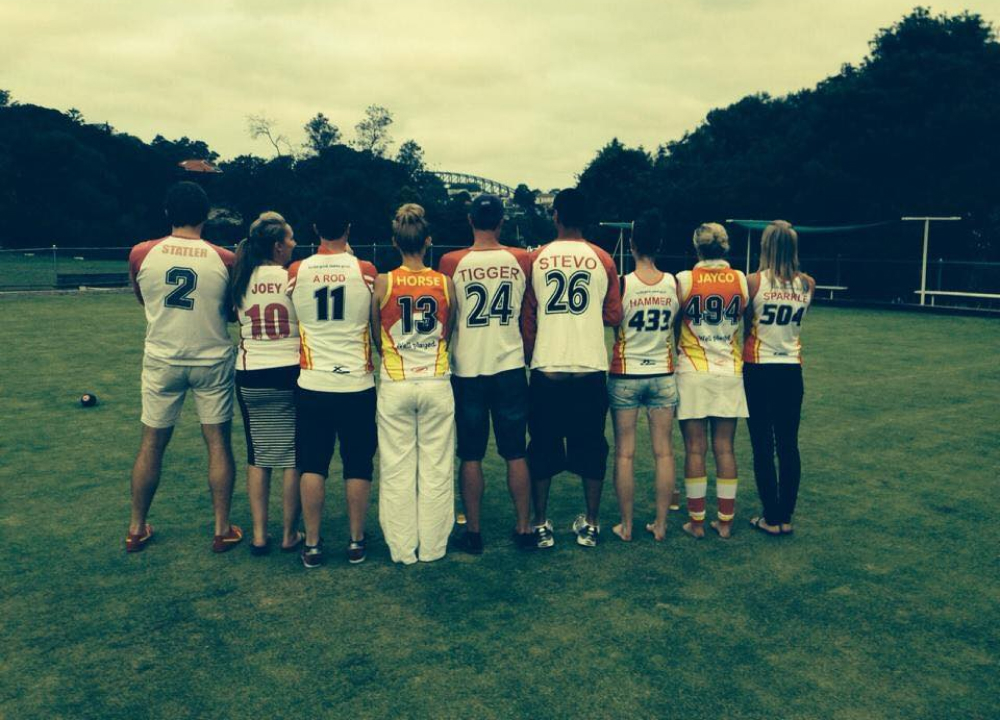 Where it all began
In the beginning, there were a group of bored nineteen and twenty-somethings (and some others…) that got together with the idea of revving up their world of sociable sport.
En route to finding a suitable direction, this rag-tag assortment of Zimbo's, Kiwis, Saffas and Aussies hooked up with a couple of token English to see what kind of hell they could raise.
We then picked a game (netball – no one really remembers why?), we found a pub and we found a tournament. Conveniently located at the same pub – The Walkabout, Shepherds Bush and away we went!
Ten weeks later, a lot of beer and more by luck than judgement, we were crowned champions of the Walkabout Autumn mixed netball league 2001! And if the kudos wasn't enough, we won a massive bar tab and a lot of nasty hangovers. The celebrations continued for many nights (though the bar tab didn't get past the first hour), before the group was scattered around the globe in pursuit of fame, fortune and a cure for those damn itchy feet.
Hot Custard was born!
Well, that was that for a while, happy times had become happy memories, before the remaining few decided that the daily grind was too much to bear without some more fun to be had. Several beers later, we decided to do it all again – only bigger and better and (maybe) with a hint of organisation… and Hot Custard Sports was born!
Many people have wondered just what the name is all about – including ourselves – and many fantastic stories abound. What we do remember is that we liked custard and like so many things, it seemed like a good idea at the time.
Since then, the club has adopted touch rugby as our main flavour of choice and we've gone from strength to strength. Over the years we've had plenty of great characters join the club, each honored with a player number to cement their spot in Hot Custard history.
Hot Custard – past and present
Eugenie Duff
Rohan Creasey
Lucy Kirke
Joanne De Vries
Jess Creasey
Laura Watt
Heather Lavis
Des Creasey
Sarah Sharpe
Joanne Burns
Adam Ferrario
Lindsay Clark
Kym Ferrario
Kylee Leggatt
Guy Dilliway-Parry
Nathan Clark
Ingrid Malifa
Matt Burns
Adrian Clarke
Nicola Yeandle
Karl Clements
Charmaine Fenech
Lyndal Watson
Todd Newmarch
Nikki Goldman
Steve Mah-Chut
Jane Wombie
Andrew Lloyd
Seona Banfield
Matthew Gooden
Sue Campbell
Rob Simms
Kristi Gooden
Chris Dawson
Deanna Pugliese
Rachel Jackson
Trish Healy
Ryan Serocki
Shannon Guiton
Sally Newmarch
Bryon Skewes
Kate Mueller
Mark Harrison
Irma Gonzalez
Hema Douglas
Amber Streten
Craig Marcham
Abi Huston
Amber Erueti
Dan McLeod
Melanee Spain
Brett Longmore
Kelly Walker
Natalie Hopkins
Belinda Larsen
Sasha Scharer
Alice Baker
Kirsty Baxter
Tahnee Wright
Bec Brincat
Sandra Hentschke
Nick Maesepp
Victoria McMahon
Megan Jeffrey
Katrina King
Jocelyn Cumming
Andy Childs
Kellie Parsons
*Jersey Retired*
Kylie Sylvester
Craig Sylvester
Nichole Taske
Galya Reuter
Steven Lupton
Timmy Mabey
Leonie Jeanes
Tracey West
Jodie Graham
Ross Davison
Colin Height
Colm O'Driscoll
Ian McMillan
Jon Pike
Sarah Toussaint
Clare Stone
Summar Sargeant
Steve Taylor
Naomi Hubbard
Julie Carrington
Michelle Earle
Liisa Clifford
Jenni Watkin
Jayne Burrows
Catherine Seddon
Lyn O'Neill
Tracey Pope
Lara Pope
Amy Niperess
Sarah Salmond
Vicky Molloy
Bianca Zietsman
Meagan Geyer
Chris Hewton
Michael Tomlinson
Stacey Freebody
Andrew Wettern
Gavin Saunders
Jodi Boylan
Geoff Howell
Jennifer Lyster
Pippa Lumb
Michelle Findlay
Mary Woodbury
Amanda Overton
Michelle Cibasek
Nicole Cameron
Alwyn Hung
Martyn Boddy
Kate McGuinness
Sera McGuinness
Carly Sievers
Stacee Harvey
Brylee Harvey
Louisa Miles
Cameron Harvey
Sharlene Hunter
Mark Jones
Mary Beth Jennings
Cliona Glendon-Carrick
Eddie O'Shea
Eoin O'Driscoll
Michael O'Shaughnessy
Nat Duffy
Sarah Beswick
Kate Stanley
Bronagh Byrne
Will Rigney
Robert Brack
Jeremy Gaehl
Cortney Thomson
Rachael Hamblin
Ariana Hemara
Wes Smith
Rob Randles
Chris Beattie
Tracey Graham
Mark Sarah
Nada Piachniarski
Helen Cooper
Caroline Johnson
Amy Ribot
Nadine Tilley
Oliver Thornhill
Louise Houston
Rebecca Davidson
Pamela Shaw
Christine Sonego
Alistair Morley
Adam Boldiston
Suz D'Angelo
Belinda Young
Polino Langi
Emma Kelly
Michelle Ryan
David Harrison
Megan Pirie
Kurt Donsberg
Jon Degner
Tom Marchant
Darren Wilson
Chrissy McLean
Fiona Keary
Shane Wardrop
Sally Coulston
Emma Jackson
Trina Morgan
Emma Lawson
Christina Tuataga
David Sharpe
Erica Neill
Andrew Brackman
Shannon Arnold
Rebecca Blowers
Ken Kwan
Belinda Austin
Belinda Murray
Laura Wilkinson
Darren Page
Chris Hinds
Hannah Wilkinson
Tony Pekepo
Rebecca Ryan
Merridee Arthur
Clay Gill
Sarah Pearce
Lisa Fracaro
Ben Gainsford
Correy Kotuhi
Mike Tamepo
Michael Abromowitz
Wendy Hilton
Leisha Baker
Rachel Glasier
Rachel Brent
Al Thompson
Dave Harrow
Racheal Garvey
Natasha Barrow
Gowan King
Donella Gawith
Hannah Gale
Ben Moss
Candice Serfontein
Pieter Serfontein
Jaclyn Baker
Grant Clark
Ben van Zyl
Simone Cameron
Sharon Grieve
Brett Barfoot
Brendan Mahoney
Aaron Daley
Angus Kerr
Peter James
Scott Feigan
Kate Rowlands
Alison O'Hare
Carmen Moorhouse
Chris Rushton
Mark O'Hare
Ritchie Harmon
Clinton Byrne
Tom Hughes
Jolyon Nott
Mike Katz
Jane Balle
Anneliese Turton
Rebecca Belcher
Amanda Snell
Zanna Marr
Rhonda Apsey
Kirsty Woodham
Jen Watt
Phil Ormerod
Peter Walters
Taff Nepe-Apatu
Emma Cochrane
Karen Owen
Cameron Mouat
Stacey Barbuto
Paul Barker
Carle Skeim
Mel Balaam
Hannah Kelly
Adrian Rodda
Liz Weeks
Matt Hall
Karen Goddard
Brett Smith
Georgie Douglas
Elise McGale
Jason Sweeney
Brad Austin
Mel Abromowitz
Liam Walsh
Jamie Labate
Gerald McDermott
Marnie Lightbound
Roz Gouws
Diane Antonovich
Kate Rudwick
Tara Cannell
Hayley Wilson
Nicky Cochrane
Nathan Wimble
Kirsten Metzger
Keir Mathers
Lesley Nicoll
Chloe Patterson
Karen Pottinger
Katie Fowler
Hannah Anthony
Shannon Duff
Nathan Goode
Jarred May
John Morley
Carly Rodwell
Joel Mautner
Peter O'Brien
Removed
Dave Jones
Paul Collier
Kate Phillips
Matt Goddard
Marcus Gridley
Austin Smith
Dougie Phillips
Brigid Brennan
Te Oranga Witehira
Ebony Blake
Mugsy Mullins
Lill Keane
Bridget Smith
Wayne Hood
Chris Bishop
Nikki Glover
Katie Rowe
Julia Bidese
Kristy Brown
Josie Smith
Jerome Kav
Jane Karpavicius
Hayley McLoughlin
Kristy Campbell
Shae Crosbie
Mardi Jenner
Jason Smith
Janey George
Ailsa Grierson
Lucia Chiappini
Teresa Grant
Sarah Coats
Katy Taylor
Dave O'Conner
Jo Vyvyan-Robinson
Kevin Chandler
Rebecca Knights
Melissa May
Dannika Coleman
Emma Searancke
Ruth Card
Suzanne Odeny
Teresa Aldous
Steven Allerby
Grant Carroll
Steve Clarke
Meg Escott
Andrea Hodgson
David Humm
Victoria Lawson
Josephine Miles
Robert Olwill
Jeremy Pattern
David Rowe
Jason Sincock
Mark Toal
Laura Tolley
Caroline Evans-Jones
Teresa Dean
Mel Carson
Robin Philips
Adam Baker
Anke Werschnik
Peter Schmidt
Sarah Pinches
Dan Nicholls
Rhona Rees
Carrie Lim
Lauren Brown
Rhi Hill
Phil Lewis
Jonathan Swift
Juan Carlos Bedoya
Charly Leitch
Warren Dale
Jessica Lambshead
Paul Wallace
Mags Nevin
Rachael Lewis
Danusha Ogrovnick
Jane Cook
Earle Moroney
Mark Rosser
Emma Woodham
Susannah Bradley
Andrew Stott
Alice McEwan
Ann Marie McLaughlin
Laura Fraser
Lynn Hamilton
Marie Booth
Nicola Davidson
Nikki Hedges
Ben Edmonds
Kim Ruckweid
Kirsty Boniface
Sasha Sethi
Emily Sheldon
Dan Burges
Ben Creen
Annie Davies
Ceri Edmonds
Alastair Murray
Kit Fraser
Jon Edmonds
Tim Freeman
Simon Neale
Dan McGowan
Charlie Ashworth
Narelle Ryan
Kate Wastell
Anna Swain
Alex Wilson
James Everley
Sarah Pullinger
Andy Nelson
Damien Hor
Jhanelle Osbourne-Burke
Charlotte Taylor
Jacqui File
Kylie Hutchinson
Julie Glasgow
Cheree Volz
Vicky Astlee
Briohny Coglin
Naomie Rapira
Paula Ratahi
Donna Gibbons
Nina Bloor
Kevin Fenwick
Zhaine Northcott
Campbell Holdt
Lisa Rutherford
Morgan Morris
Kori Rapira
Jase Tairawhiti
Tamara Ratahi
Allan Rowe
Andrew Parker
Lisette Mayhew
June Osborne
Bec Ryan
Leanne Hammer
Verity Woods
Clare Gregor
Emma Black
Marissa Bond
Carina Kane
Caryn Abromowitz
Paula Graham
Dean Gurney
Rebecca Temple
Ian Hayman
Melanie Bryant
Simon Bell
Jen Hoole
Peter Ashe-Browne
Liam Carroll
Philip Elliott
Michael Booth
Riaan van Schalkwyk
Pip Hanrahan
Karina Vaevaemaki
Marnie Wills
Philippa Tuttiet
Hennie Strauss
Ange Symonds
Nick Poon
Mike Evans
Celestine Cheong
Pete Ryland
Carolyn Maunder
Damian Buchanan
Gareth Cowan
Mark Travers
Jamie Lee
Laura Wenden
Ben Smith
Alice Watchorn
Caryl James
Rob Heath
Drew Anthony
Janet Bond
Geraldine Warren
Jen Peters
Phoebe Glenday
Kelly De Vries
Johnny Asher
Rachel Blair
Megan Trickey
Tim Byrne
Angus Reilly
Paul Stubbs
Jessica Pulley
Teresa McNaughton
Kevin Kavanagh
Claire McIntosh
Karen Spencer
Igor Ramoneda
Emily Hamilton
Sophie Carroz
Emma Fahey
Kat Ferguson
Lauren Jacobs
Al Clifford
Hillary Choularton
Jane Gregs
Nigel Burton
Clare Thorpe
Liss Reynolds
Mark Reynolds
Lauren Bliss
Jason Kwan
Krisso Arkle
Scotty Smith
Tara Podryhula
Gaida Erlano
Kristy Ryan
Matt Drummond
Layla Rohan
Kristy Takats
Sarah Stapleton
Alicia Perry
Ingrid Cadette
Carla Fahey
Jarrod Hillary
Joey Batch
Naomi Dowding
Fiona Joseph
Natalie Fell
Marney McKellar
Jerome Ahern
Russell Hill
Jodie McCarthy
Andy Manttan
Stephen Morgan
Rachael Viles
Brendan Yep
Angus Wilkinson
Jessica Gray
Krystle Rizkalla
Bridget McNamara
Declan Oliver
Aaron Baker
Nico Mohrholz
Gareth Bateman
Linton Neilson
Lesley Tischler
Julia Daffy
Guy Dryden
Marc Russell
Michael Edwards
Margot Akeroyd
Leanne Chan
Tim Osborne
Joe Hill
John Boyes
Mel Atherton
Jason Logan
Sally Hamilton
Paul Smuts
Neill Hunt
Tim Diack
Claire Hungerford
Kelly Thomas
Shaun Bengston
Zhayne Nel
David Cope
Nikki Walsh
Ben Dickson
Aran Gray
Monika Mereckyte
Katie Spencer
Adam Reid
Adam Leps
Alan Lowton
Leon Davis
Andy Rugeroni
Jessica Brunen
Lucy Greig
Claire Reid
David Lee
Matt Evans
George Willcox
Laura Ford
Anna Cunnington
Cath Morris
Andrew Le Breton
Tardas Ereckyte
Jimmy Mcauliffe
Bindy Hodgson
John Pearce
Shane Chapman
Shelley Laslett
Kris Friend
Suzi Sting
Anthony Boothe
Emma Hancock
Greg Murray
Sharise Wilkinson
Katy Niccol
Sarah Porcelli
Drew Lanyon
Lucy Clark
Liz Fraser
Ash Fanning
James Roblin
John Nicholson
Simon Moore
Chris Whittock
Tom Cross
Angie Sharrock
Charlie Sanderson
Ben Toynbee
Lloyd Edwards
Laurie Young
Tanya Winson
Fiona Morrison
Alex Hilton
Kevin Coll
Helen Cordiner
Neil Bowden
Richard Dodunski
Caroline Coghlin
Paul Duncan
Alan Barry
Angela Verniquet
James Botten
Matt Bull
Sheeno (Dave Sheehan)
Alicia Lynam
Isabel Antes
Tom Devereux
Carl Bailey
Nathan Sharp
Dom Lance
Stevo (Shane) Robinson
Alyse Palmer
Kate Bradley
Catriona Weir
Taryn Linnan
Leo Jen
Tamsin Openshaw
Nathan Cole
Brett Milligan
Noel Forde
Stru Todd
Grant Evans
Tim Mallon
Alonzo
Ben Madden
Kent Taylor
Katie Smith
Fiona Stirling
Rich Nienabar
Jane Temple
Sindre Myhrhagen
Michelle Cobcroft
Leigh Wylie
Shea Roffey
Alicia Lippiatt
Dave Harwood
Pete Watkins
Pepita Macalister-knight
Kiki Tjia
Kate Elizabeth
Thomas Mulholland
Joel Townsend
Lauren Roberts
Ben Stark
James Robinson
Jessica Powell
Shane Weston
Romi Mackiewicz
Kate Parker Hughes
Peter Ndeira
Stephy Brown
Becky Bow McGovern
Ashleigh Kidd
Agilene De Villa
Byron McCready
Sean Burke
Melissa Shakas
Tahlia Dolan
David Bartlett
Harry Hon
Elis Bulla
David Heslop
Megan Rumford
Sophia Brown
David Diack
Stephen Dellabarca
Bianca Nedanovski
Julia Wade
Matthew Wade
Nick Cooper
Nicole Doig
Leah Percy
Graeme Cowie
Peter Latham
Amie Bruce
Ewen Craigie
Danny Hawthorn
Jo Ewen
Tommy van Huuksloot
Emma Larcombe
Roger Neighbours
Kate Parker Hughes
Georgina Bonnington
Dan Watkins
Fraser Armstrong-Watters
Brad Kirby
Fae Clerey
Calan MacIntosh
Leah Cuthbertson
Hamish Jones
Jamie Tang
Jennifer Hinam
Shane Rowe
Edith Rogers
Olivia Schweikert
Angus Gough
Ali Bradley
Mark Aldous
Erick Williams
Brea Singman
Will Gaines
Alison Freshwater
Ben Lonsdale
Simon Peachy
Mark Strachan
Simon Patterson
Martin O'Connell
Stewart McIndoe
Liam Kerr
Lance Marshall
Normal Gregory
Daniel Milne
Ryan Milne
Cam Ennis
Tyron Child
Matt Douglas
Sarah Blackman
Dom Page
Kate Baker
Anne-Marie Moussa
Lucy Nitschinsk
Alex King
Josh Woodford
Bronte Angell
Rhys Matsen
April Kenny
Jeni Hansen
Carryn Vincec
Kurt Bryant
Caroline Pillman
Georgia Clancy
Scott Rowlandson
Jerome Doraisamy
Rel Bradley
Beck Lang
Amy Jansen-Flynn
Tom McNamara
Jessica Blackman
Amy Kube
Jerome Dinale
Scott Higgins
Matthew Powell
Alex Smith
Indi Angel-Auld
Chris Arnold
Molly Kernahan
Alice Sommerville
Kieran Powyer
Joel Floyd
Sonatane Tuakalau
Naomi Fearnett
Shaun Flynn
Dean Wiles
Lucy Clay
Siobhan Bell
Sam Donlan
Emma Cameron
Dylan Bartley
Sarah Peattie
Jilly Selff
Peter Heit
Andrew Donaldson
Alison Bradley
Fintan McGrath
James Plimsoll
Chelsea Hall
Ru Durrani
Sean Lynch
David Lowe
Phil Jackson
Adam Haskins
Richard Doole
Simon Page
Kaveh Rassouli
Logan Lawrence
Cameron Lawrence
Gary Hance
Alan Mailer
Keith Hobson
Ken Tree
Andy MacDonald
Nicholas Riley
George Hislop
Cayne Schooley
Kendelle Fry
Matthew Hungerford
Scott Mogford
Jess Barnard
Darren Bosman
Harry Goldman
George Meale
Ashleigh Ward
Jake Hogan
Stacy Hogan
Sam Jones
Sarah Kelleher
Shane Scott
Jamie Ironside
Jamie Taylor
Laura Cochrane
Haniyyah Rahman-Shepherd
Michael Busby
Ben Kocaj
Daniel Mayall
India Hussain
Joe Ewen-Ortiz